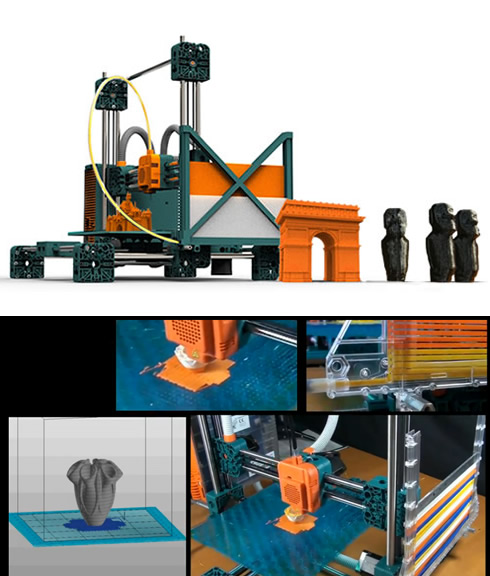 German company "Fabbster" is showcasing at the 2013 CeBIT a 3D printer, which creates solid objects in plastic from a computer display. The key for the 3D printer is applying successive layers of plastic as thin as 88 microns.
Extremely fine detail for objects built up in solid plastic impressed visitors to the German company Fabbster's display at the CeBIT high-tech fair in Hanover, Germany.
The system is a compact 3D printer which fits on a desk. Using data processing software from netfabb means the software is run from a standard PC which makes it easy for the masses. The fabbster kit can be assembled within a few hours and once assembled, users can start printing in less than 30 seconds.
The machine works on the principle of layer construction. This literally means that it prints the components layer by layer, using slim – 88 micron – layers. Fabbster melts plastic material in an extruder and prints it through a nozzle onto a platform. After printing one layer the print head lifts and applies another layer of melted synthetic material on the just printed one. The component is built from the bottom upwards layer by layer. While cooling down the material solidifies and connects to a complex object.
"You can really make anything you can think of. The real fun comes from designing and building your own objects, although you can also download pre-set designs from the Internet." said Fabian Grupp, project manager.
The 3D printer displayed at CeBIT has a capacity of 22.5cm by 22.5cm by 21cm and can be used by small businesses, architects, designers and engineers. This machine retails for $2,000.
The CeBIT, the world's biggest fair for the high-tech sector is taking place  from 5 to 9 March, in the northern German city of Hanover. Some 4,100 exhibitors from around 70 countries are expected to set up shop in the cavernous halls of the Hanoverian showground.
http://www.youtube.com/watch?feature=player_embedded&v=ZsM3PS87glo
Other Articles and Products on 3D Printing on World Industrial Reporter:
Additive Manufacturing to Accelerate Innovation in the Lighting Industry
Architects Plan World's First 3D-Printed House
Panasonic Debuts World's First 3D Printed OLED TV
FORMIGA P 110 – 3D Printing of Plastic Components
China Looks to 3D Printing for Manufacturing Edge